We hope you will enjoy our "Prayer Note"—an internal communication here at The Cove, created each month to remind and encourage our staff to pray. We share these with you at the beginning of each month in hopes that you, too, will be encouraged.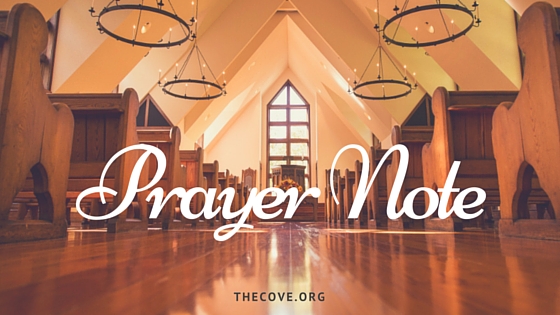 "And pray in the Spirit on all occasions with all kinds of prayers and requests. With this in mind, be alert and always keep on praying for all the Lord's people." (Ephesians 6:18, NIV)
 The Stories Jesus Told: Renewing Our Minds Through the Parables
"The LORD Himself goes before you and will be with you; He will never leave you nor forsake you. Do not be afraid; do not be discouraged." (Deuteronomy 31:8, NIV)
Do you recall sensing the presence of the Lord the first time you drove into The Cove?  Perhaps you have been told by guests, "I felt the presence of God as I arrived on property."  It's a common refrain we enjoy and will never tire of hearing.   But, even more, it's an answer to the prayers of our founders and staff.
At The Cove dedication in May of 1993, Billy Graham told of his and Ruth's visits to this property.  The Grahams, "came over and looked at The Cove several times.  One day, she and I walked up this mountain and climbed to the top, came down about half way and then she and I had a prayer meeting ourselves, just the two of us.  And we dedicated this property to the Lord."
Each department across Cove property could tell of times the Lord has gone before them, prompting them to speak to someone, to double check something, to pray for a specific guest or co-worker, to share a particular Scripture, to make a phone call.  Later they would discover how the thing they were prompted to do was the very thing someone needed or the detail they might have missed had they not been obedient to His prompting.  Yes, the Lord goes before us and we are so grateful.  If it were left up to us, we would certainly fail.  Yet, as we serve and seek the Lord, we have the assurance He is involved in the details of The Cove's workings, as well as the intimate details of our personal comings and goings.
Mr. Graham, determined this property should be used for none other than the Lord's purposes, made the following bold statement, "I give God the glory for making The Cove possible.  If The Cove ever departs from this vision, then 'Ichabod' – the Lord hath departed – will be written over this place. And may every one of us pray this will never happen to The Cove."
As you pray this month, inviting the Lord into June's events at The Cove, remember to pray that we stay true to His calling, for His glory.  What great assurance we have knowing it is the people the Lord loves, cares about and goes before – our guests, our leadership, our co-workers and you.
Written by: Laura Brown
---
Click here for a schedule of seminar, concerts, and retreats at The Cove in beautiful Asheville, NC.
Are you a Christian church or non-profit ministry looking for a place to hold your conference, retreat or ministry event?  Click here for more information on holding your event at The Cove.
Visit the Chatlos Memorial Chapel, Visitors Center, and Ruth's Prayer Garden. Click here for directions and operating hours. Tours are free.