By Joy Allmond
Ministry wives, do you find it hard to confide in anyone? Or, maybe you constantly feel defensive of your husband's critics. No matter what issue you face, Gail MacDonald has walked in your shoes.  
Gail and her husband have been through the ups and downs of ministry life for more than 50 years. Over this period of time, God has equipped her to speak into the lives of other ministry wives. During April 4-5, she will lead a Ministry Wives Retreat at The Cove. 

"We have all these people in church, yet it is difficult for younger ministry wives to find older women take the time to mentor them. They feel like they've done their thing, instead of coming alongside them," she explained.
So, how can you best serve the ministry wife in your life?
Gail's first piece of advice centers around conversation.
"If you take a ministry wife to lunch, talk about how God is growing each of you rather than church issues. The conversation is bound to head toward church critique. She doesn't need that. If she finds that people who take her to lunch have an axe to grind, she will use greater caution as to who she lets in her life."  
The most important thing you can discuss with a ministry wife is what are you learning from Scripture. "Relationships should be based on what God is doing in our lives." 
Today's ministry wife also deals with much criticism—that of her, and that of her husband. Furthermore, she often has a harder time dealing with criticism of her husband than even he does.
"We are people pleasers. The good news is, we love people. The bad news is… we love people," said Gail. "If opinions become too important, this can set us in a bad place where we're never satisfied. I always encourage everyone on staff to be themselves."
Another way lay people can help ministry wives is to help her with practical things.
"Pastors' wives are aware that both they and their husbands wear entirely too many hats. A pastor is hired to be a pastor but often fired for not being a good manager. Church life can be very complex, especially if a pastor and his wife are in a smaller church. There is not a staff to delegate things to, so they end up with most of the work.
"This is especially true of the last couple of decades, since more women in the church have gone into the workplace. There are not as many people to volunteer to do things."
A ministry wife should be encouraged to know her limits, and to say no when necessary.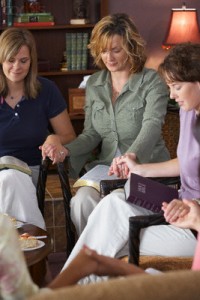 The most important thing you can do for a ministry wife, Gail says, is to pray for her.
"If she ask you to pray about something, get back to her and check on it. She needs to know you are genuinely interested in her prayer needs. Prayer and affirmation are the biggest needs of anyone in ministry."
If there are things you see in her life that you can't talk about, pray those thoughts into her. "Sometimes we can move people only by prayer. They are not ready; they can't bear our words," she explained.
When she is at The Cove with this group of ministry wives, she wants to show them that you can be in ministry for over 50 years—and still love it.
"I want them to see that Christ and His availability to us and the power He gives us will sustain us. Often times, we try to make God into our image. We need to ask how we can fall into step with Him instead of Him falling into step with us. "
Click here or call 1-800-950-2092 for more information and to register for The Ministry Wive's Retreat at The Cove on April 4-5, 2013. 
Gwen Smith will be leading worship for this retreat!    
Financial assistance is available.  Click here for an application.