By Will Graham,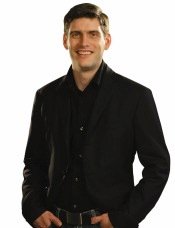 Those of you who follow my ministry know that one of the things that drives me the most is my love for the Bible. Not just the New Testament, which is glorious and full of hope, but the Old Testament as well. When we just focus on the New Testament, we miss so much history and context, and we only see a portion of what God is telling us. So much in the Old Testament informs what we read in the New Testament.
Given that, I bet you won't be surprised to hear me say that I am extremely excited to lead a seminar at The Cove in October, focusing on the book of 1st Samuel.
I'm preparing to do something that we've never done before in the 25 year history of The Cove, and that is work through an entire book of the Bible over the course of multiple years. Sure, we've had seminars that have covered entire books – Jonah and 3rd John, for instance – in one setting, but for our study of 1st Samuel we will work through the book deeply and deliberately and we will take as long as needed.
I have a game plan, and an idea of how far we'll get during the first seminar, but I'm also ready to be redirected if I feel God's leading that we need to speed up or slow down. And, boy, am I ready to go!
There are two things that I find really interesting about 1st Samuel. The first is simply the person of Samuel. The Bible says "the Lord was with him and let none of his words fall to the ground." (1st Samuel 3:19, NKJV). In other words, God didn't allow him to say anything that didn't come to be. Samuel is an amazing person and leader to study and from whom we can learn much.
Secondly, 1st Samuel takes place during a very unique time in the history of Israel. At this point, Israel is in the Promised Land, and when Joshua died there was no heir apparent. They chose judges such as Samson and Gideon to handle local issues.
Samuel was the last of those judges, and his focus was much more national in scope. He oversaw the transition of Israel from the realm of judges to the leadership of kings, and anointed the first two kings of Israel – Saul and David – with God's direction. The kingship of Israel is a major theme throughout the Bible, and it all began in 1st Samuel. (It wasn't always a clean and pretty thing, either!)
In the seminar we'll look at the warnings that Samuel gave the Israelites as they demanded a kingship, and we'll look at Saul – a man who looked the part (we're told in chapter 9 that he was taller and more handsome than anybody) but was a colossal flop. As we proceed we'll also look at David, God's man, who would be the greatest king of Israel.
Can you tell I'm excited? I hope that you'll make plans to join me. If you can only come one year, I pray it will be a blessing to you. If you can come back year after year, that would be a lot of fun too! Let's just look forward to spending some time together learning about a few of the most historic leaders in the Old Testament and see what God has in store for us in the process.
Blessings to you!
To register for Will Graham's seminar titled, Second Guessing God's Plan, on October 7-9, 2013, click here or call 1-800-950-2092.