You could cut the tension with a knife.
A couple walked into the Billy Graham Training Center last year to attend a Military Marriage Retreat. 
This retreat was a last resort for their failing marriage.
Two days later, after many hours of Bible teaching, daily devotions, much needed time in prayer, walking the trails, fellowshipping with other military couples, marital workshops and pastoral counseling, this same couple walked out hand in hand with a new committment in their heart.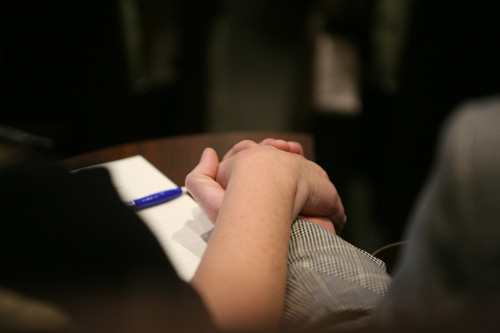 A committment to lay their marriage at the feet of Jesus.  To surrender and allow God to make their marriage one of strength and beauty.  They opened their hearts in order to allow Jesus to heal the hurts and grow the bond of their marriage.  A marriage devoted to God.
Marriage can be tough enough for ordinary civilian couples. But consider the unique challenges that military families are faced with. Extended separations, frequent moves, unpredictable schedules and difficulties in communicating due to distance or stressors that take place but cannot be voiced.
These military marriage retreats allow couples to focus on God in their marriage and how applying Biblical principles to their circumstances will strengthen them both as a couple and individuals.
Today, Valentine's Day, the first of two 2014 Military Marriage Retreats will begin at The Cove. 
Please join us in prayer in lifting these 115 couples up for healing, strength, wisdom, rest and renewal.  Pray with us that each person would hear from and be touched by God in a special, meaningful, transforming way.     
Active-duty, Guard and Reserve servicemembers may attend the military marriage retreats, as well as other Cove seminars and Personal Spiritual Retreats throughout the year at no cost to them.  The program, lodging and meals are covered by generous donors who wish to bless these special people. 
There is still space in the June 27-29, 2014 Military Marriage Retreat with The 5 Love Languages author, Gary Chapman.  Click here for more information.