Join us in wishing Cliff Barrows a happy 90th birthday!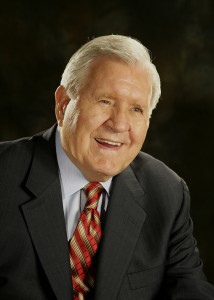 Cliff Barrows began working with Billy Graham in 1945 as his crusade Music and Program Director and has led congregational singing and crusade choirs around the world.
"When Billy and I met," Barrows says, "Billy looked at me with a smile. He grabbed both of my hands and said, 'No time to be choosy!'" It was the start of a lifelong ministry together.
He fondly declares, "The 67 years I've traveled with Billy Graham have been the greatest years of my life; I thank God for the journey."
Watch here for a nice tribute to Cliff Barrows.  You will see some great footage of Cliff, Billy and even George Beverly Shea, who celebrated 104 years on Feb. 1st!
Would you like to spend time with Cliff Barrows in 2013?
Join Cliff at The Cove in 2013 as he continues to share his musical gift and proclaim the Gospel as host for the popular SeniorCelebrations retreats.  These three-day events are designed for people age 55 and up.
The first will be April 15-17, in which Cliff will be joined by Philip Ryken, president of Wheaton College, and Marty Goetz, a Messianic Jew and popular worship leader.  Other events will be held May 20-22, Aug. 5-7 and Sept. 9-11. Barrows will host each event and will be joined by various musicians and Bible teachers.
Call 1-800-950-2092 or click here to register on our website.