By Neil Anderson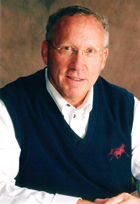 In the vast ocean of eternity there was a tidal wave of time that began with the incarnation of Christ and ended with His crucifixion. God stepped out of eternity into time in order that we might step out of time into eternity. His example set the bar so high that human achievement is beyond our grasp. The incarnation was the sternest possible rebuke to our pride. We cannot fully comprehend the example of Christ who "emptied Himself, taking the form of a bond-servant, and being made in the likeness of men" (Phil. 2:7). He went from the highest state of being to the lowest state of human existence, becoming a helpless infant born in a manger to humble parents with no social status. For you and I to become a slug doesn't come close to approximating the descent. "And the Word became flesh, and dwelt among us, and we saw His glory, glory as of the only begotten from the Father, full of grace and truth" (John 1:14).
Our Lord's time came to an abrupt end at the crucifixion, which was the sternest possible rebuke to our selfish nature. "We know love by this, that He laid down His life for us; and we ought to lay down our lives for the brethren" (1 Jn. 3:16). Can you imagine what life on earth would be like if we all believed the Apostle Paul and lived according to Philippians 2: 3-5:    
"Do nothing from selfishness or empty conceit, but with humility of mind regard one another as more important than yourselves; do not merely look out for your own personal interests, but also for the interests of others."  

Have this attitude in yourselves which was also in Christ Jesus.
Neil Anderson's seminar titled The Core of Christianity takes place on July 13-15 at The Cove in Asheville, NC.  To register click here or call 1-800-950-2092.