By Lyndsey Parham
"Sometimes God wants to force a choice out of us by bringing us to tough situations. You won't be dependant on God until you are at a place where you solely rely on God."  ~ Kendra Graham
Isn't that the truth.
For me, it wasn't until the Lord walked me through a very challenging season that I truly got and understood this. Dependence on the Lord comes at a place and time when He becomes what you solely rely on. You can try your best to communicate and prepare for this kind of dependence, but we are creatures that learn from experience. This experience became my very own, very personal, very specific "Aha!" moment.
A couple of weeks ago, I was given a gentle reminder of this truth through the Joshua Bible Study at The Cove with Kendra Graham.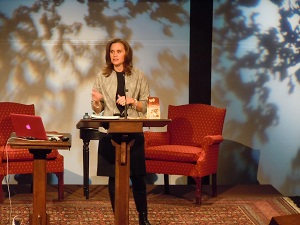 As a 27 year-old woman, I am at a place in my life where I really appreciate true and authentic based teaching of God's Word. I care more about what the Word has to say than I do about if I was "entertained" well enough by a speaker. I was so encouraged when Kendra began by talking about how we are to "treat God's Word right." Meaning, we don't want to rely solely on what other people say a verse means. Anyone can hop into Scripture and gain insight into what the Lord wants to reveal to us through His written word.
Kendra went on to say that the "more you dig the sweeter it can be" when you have you own "Aha!" moment in Bible study. And aren't those moments just the best? I love when you spend time pouring over the Word and then all of a sudden, it seems, that those same words you read a month ago, become so alive as you happen to read them again during a time that you couldn't need them more. Isaiah 55:10-11 in action.
"As the rain and the snow come down from heaven, and do not return to it without watering the earth and making it bud and flourish…so is my word that goes out from my mouth: It will not return to me empty, but will accomplish what I desire and achieve the purpose for which I sent it." (NIV)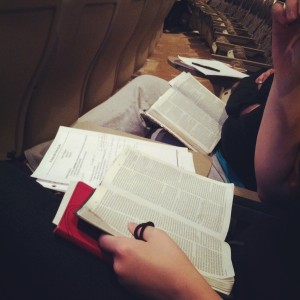 I love that. His Word never returns void. There is something about getting in the Word for yourself and then joining in a Bible study where multiple women have done the same. We learn and grow from what each other have gained in their own time with the Lord! Kendra shared that "we aren't supposed to have all the answers: that's the point of the body of Christ."
I am so grateful to be sharing in this Tuesday night Bible study. Especially since we are spending time in the book of Joshua. Big things go down in Joshua. We see the Israelites struggle and experience victory, but even more so, we see God act in some huge ways.
Having recently moved back to Asheville from the Lone star state of Texas, I always heard from my mom and sister about these "Tuesday night studies." Now I get to experience them in person.
And I am so very glad for that.
———————————————————
NOTE from The Cove: We will begin a Cove Bible study community, which comes about from women wanting to share their "lessons" from their weekly Bible study with Kendra Graham.  Kendra's study, here at The Cove, only lasts for 7 weeks in January and February of each year, so this is a place for the conversations and the relationships to continue.  A place where women can come together and share their journey towards scriptural truths and spiritual maturity.  We pray this will be a safe, respectful, resourceful place to come and discuss God's Word…to discover What it says…what it means…and what it means to you!
If you want to be notified each time Kendra posts a verse for study or starts a new conversation, make sure you subscribe to our blog.  It's easy, just type in your email address in the box on the right hand side of this screen.
Jane Derrick, Cove Bible study teacher, will also have a Bible study community on our blog.  See Bible Study Community with Jane Derrick.