By Tiffany Jothen
I'm not sure I have ever seen my dad clap along to a worship song, but Saturday, I witnessed the phenomenon TWICE when Irish folk band Rend Collective Experiment took the stage at The Cove.  I don't think anyone can see them in concert and not move around.
I first saw Rend Collective in Buffalo, N.Y., last fall when they performed at Rock the Lakes, a BGEA youth event.  Listening to their music is like a holy band room exploding in your soul — a Jesus jamboree.  It's the kind of band that makes me want to learn an instrument so I can be in it, too.  My parents and husband gladly came along Saturday when I showed them a few of the band's YouTube videos.
A couple of weeks before the concert, I ordered Rend Collective's latest CD, "Campfire," so I could sing along on Saturday.  I don't like playing my music loud when I drive with the windows down, but this CD I want to share with everyone.  Seeing it live was even better.  They truly know how to honor God's majesty and creativity.
One of the best things about Saturday's performance — besides the high-energy band itself — was the audience.  More than 20 states — from California to Florida — were represented, with a few people under 10 years old and several over 70.  Some people wore sundresses or khakis; others went with the cutoff jean shorts and beanies.
An older woman who sat next to me at dinner before the concert said she knew nothing about Rend Collective, but was in the area and thought they would be good.  A group of 20-somethings who sat behind me during the concert called them a "sweet" band, and one guy in the group said a concert doesn't get much better — a delicious dinner beforehand, no crowds to fight and not a bad seat in the house.  Outside, it poured down rain, but inside everyone eagerly anticipated the next song.
"When it rains this much in Ireland, we're all just grumpy," band member Gareth Gilkeson said in his Irish acccent.  He put up his hands in his vest pockets, wore a red tie and hat and used words like "wee li'l" and "shindigery."  (His wife and fellow band mate, Ali, said after the concert that if you eat enough Lucky Charms, you'll get the same accent too.)
Throughout the show, the band used all kinds of instruments, including an accordian, xylophone and trash can.  I was impressed with Ali's ability to switch instruments multiple times during a song.  Lead singer Chris Llewellyn picked up a ukulele toward the end.
"It's mostly played by little girls, but that doesn't bother me," he said.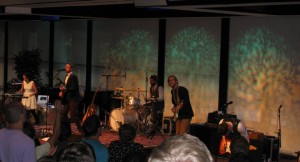 I was sad when my camera died about half an hour in, but I decided it was better to experience the concert first-hand anyway.  The lyrics on the screen made it easy to sing along, and it's always moving to witness an entire room of people praising God together — voices and sometimes arms raised.  For one song, we put an arm around our neighbor and jumped in sync.
(Check out this video another person in the audience posted on YouTube!)
Other highlights included the band letting the audience lead "10,000 Reasons" and sharing their rendition of "In Christ Alone," which I LOVED.  (Next CD maybe?)
This is a picture of me and my family, taken in my parents' inn room after the concert.