It is an honor to support our brave men and women in the military.  Active duty, guard and reserve military personnel and their spouses are invited to a FREE Military Marriage Retreat on February 15-17 (June 28-30 too, see below) at The Cove in Asheville, NC.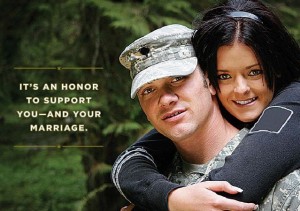 Participants will refresh their spirits as they stroll our extensive mountain trails, connect with new friends, and experience life-changing Bible teaching with a unique perspective on military marriages. 
Our speaker, John Cook, Chaplain (Army Colonel – Retired), has spent the vast majority of his life associated with the military and has a keen understanding of the challenges facing military families today. Pastor Cook currently serves as senior pastor at Snyder Memorial Baptist Church in Fayetteville, N.C.   
"One of the things that God has revealed to me at The Cove Military Marriage retreat was we've been married for 16 years and the fact that we should never get complacent in our marriage.
No matter where you are, no matter whether you're a newlywed or have been married for 30 years that you always need to grow."
— 2012 Military Marriage Retreat Participant —
Would you like to spend Valentine's Day with us too?  Come one day early for time to relax and enjoy an Evening at The Cove with Brandon Heath.  You will enjoy a delicious dinner and a worshipful concert while celebrating your love for one another.   Coming a day early can be included in your scholarship too!
"Our experience at the Cove was an absolute blessing.  We were both refreshed and renewed in our love for one another and our commitment to our marriage, our family, and our relationship with Jesus Christ.  The fact that the Military Scholarship Program made it  free of charge for us to attend, made it so much better and alleviated a financial burden."
— Military Seminar Participant —
Space is limited so if you or someone you know is interested, register today.
We also have a Military Marriage retreat on June 28-30.  Click here for more information and to register.   
You will need to complete a short 1-page application for the military scholarship and fax it to (828) 771-4808 or mail it to: 
The Billy Graham Training Center at The Cove
Attention Military Awards Committee
PO Box 19223
Asheville, NC 28815
Click here to download your military marriage retreat scholarship form.