We are very excited about the buzz surrounding Billy Graham's new book – his 30th. The book, officially debuting on Oct. 18, is called Nearing Home: Life, Faith and Finishing Well. It contains personal autobiographical reflections from Billy Graham on how he has come to view old age, including the realization that the time to prepare for one's senior years is now.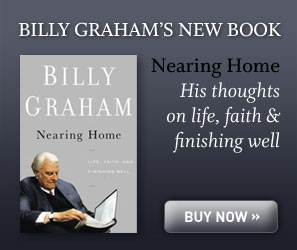 Learn more about the book from his son Franklin and his long-time colleague Larry Ross in this article on BillyGraham.org. You can find excerpts from the book on the Billy Graham Evangelistic Association website, as well.
Also, here's an article about the book from Michael Gordon of The Charlotte Observer.