By Corinne Holmquist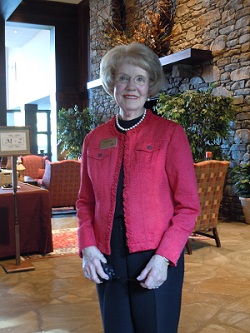 Push past the double red doors of the Billy Graham Training Center into the lobby with the living-room feel, and you might catch a glimpse of petite five-foot-two-inch lead hostess Garlene Johnson.
People have told her she resembles Norma Zimmer of the Lawrence Welk Show. "Not because I sing, but because of my big hair," she teases.
But Garlene is more than her cute blonde bob. You'll see her slender hands busy touching up and tidying around the place. Hands reaching out to greet and guide guests toward the dining room or auditorium. Hands clasped in prayer with someone over an illness or death. Or failing marriage. Or job loss.
Across from where she stands hangs a painting of her friend, Ruth Graham. "I like to look across the room at Mrs. Graham's picture and think that as I greet guests…they feel they are entering the living room in her own home," Garlene says, adding she always felt warm and comfortable there.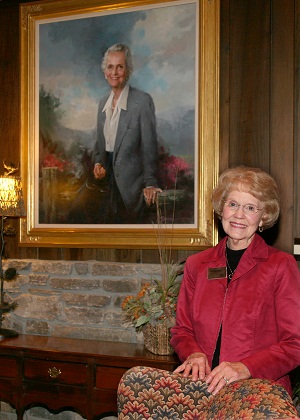 At 77, "and proud of every year", Garlene is the longest-employed hostess at The Cove, logging in 20 years of service and memories.
"She's the "quintessential Southern Belle" says Scott Holmquist, Cove executive director. "She's known for her graciousness and warmth."
Her touches, big or small, help people unwind so they can rewind with God in the seminars and surroundings ahead.
She's lady-like, yes, (she doesn't like to pump her own gas). But fragile, she is not. (She once owned a rifle thinking she could scare off an intruder, but gave it away). Blessed with energy, she's presently planning 20 weddings for this year at Montreat College and Montreat Presbyterian Church. Through it all, Garlene's compassion oozes from her life experiences knowing that God loves and leads you through the hard times. Being organized helps, too.
Born in Lincolnton, N.C. in 1935, Garlene was the oldest of three daughters. Her dad died in a car accident when she was 8; he was 39. Ironically, her grandfather also died at that age.
"Over the years I just accepted it as God's will. Their faith (of her grandmother and mom) gave me the faith to go on," she reflects.
Garlene moved to Montreat attending college, working, and later marrying Kay N. Stutts. They were blessed with two daughters, Joy and Becky. Garlene soon taught middle and high school English in nearby towns. She also taught Sunday school to two of Billy and Ruth Graham's children: Anne and Ned.
When Kay suddenly died at age 49, Garlene clung to God, again remembering the faith of her grandmother and mother who were widowed early. Years later, Garlene found love a second time, marrying George L. Johnson, the widowed father of Karlene Shea, who is married to George Beverly Shea.
Sadness struck again when George, a "Christian gentleman of prayer and the Bible" (like her first husband), died after a long illness. "It was still a shock," she says.
In 1991, Garlene ventured into a seminar at the Cove. One of the managers, whom she knew from church, asked if she would like to volunteer as a hostess.
"Oh yes," she said without hesitation. "I didn't even have to pray about it. I've been there ever since." She's found inspiration from those who enter The Cove.
One couple she met several years ago had a daughter suffering with brain cancer for three years. "Each year as they returned, their spirits were uplifted as they waited for the Lord to call her home," she recalls. "What an inspiration this couple was to me!"
"I also met a young boy in a wheelchair. He was born without legs and had stubs for arms. As he was leaving, he asked if he could give me a hug. What a precious hug that was—one of the best I have ever had!"
Says Garlene: "The years that I have worked at The Cove have been… rewarding. As I enter the property, I feel that I am on 'holy ground' where the property has been prayed over by so many, for so long. When I begin work, I am with my Cove family where we like to begin our day with prayer and devotions.
It's fun to meet guests from all over the world. Some have been to the Cove numerous times; others for the first time. I hear exciting stories about how God has worked in their lives through speakers, worship, and through that 'still small voice.'"
It's a voice she's heard before. And as guests walk through the doors of the Training Center carrying life's loads, Garlene's touches for the kingdom continue.
—————————
When Garlene prays with guests, she often uses these verses from the NIV:
Isaiah 41:10:
"So do not fear, for I am with you; do not be dismayed, for I am your God.
I will strengthen you and help you; I will uphold you with my righteous right hand."
Lamentations 3:23:
"They [compassions] are new every morning; great is Your faithfulness."
Psalm 139:23-24:
"Search me, God, and know my heart; test me and know my anxious thoughts.
See if there is any offensive way in me, and lead me in the way everlasting."
If you would like to learn more about The Cove and possibly meet Garlene in person, click here to visit our website.