Lloyd John Ogilvie led a seminar at The Cove last week, teaching on how we can attain peace through God's Word and prayer. 
Here is a six-way test he shared with our guests to see if our thoughts are guided by Christ and filled with His peace of mind.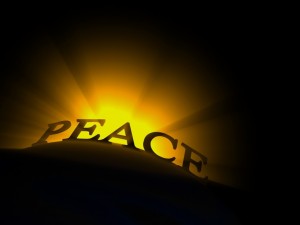 By Lloyd John Ogilvie
In the epistle to the Philippians, Paul shows us six ways that Peace Himself can guard and guide our thinking from the toxic worry syndrome. He fills our minds with things that are good and deserve praise. 
"Finally brethren, whatever things are true, whatever things are noble, whatever things are just, whatever things are pure, whatever things are lovely whatever things are of good report, if there is any virtue and if there is anything praiseworthy—meditate on these things."  ~ Philippians 4:8
These six adjectives provide a basis for peaceful thinking and creative decisions. 
Are they true? Truth Himself (John 14:6) has the right to ask. He is the truth about God, about how life was meant to be lived, about the moral absolutes of God in the commandments and the ethics for the elected—those chosen, called, and cherished as God's people. Untruth, thinking about things that degrade rather than what can be revered as valued by God, will eventually rob us of your peace. 
Are they noble? The word in Greek means "venerable, inviting reverence, worthy of adulation." Does a thought produce reverence? Filling our minds with reverent praise for the natural world, the wonder of human personality, and the dignity of each person enable peace. When we think of people as gifts from God, we treat them with reverence. Life itself is seen as a privilege. It's a precious delight to be alive! 
Are they right? There's no peace of mind without doing what is just. To be justified with God is to be right with Him. Christ reminds us of what He has done for us through the cross. As justified people, Christ can help us discern what the righteous thing to do is. He will never lead us to think about doing anything that will separate us from the Father. Righteousness is not a set of rules but a right relationship with God through faith. Any thought that disturbs that relationship will drain away our peace. Thoughts of self-justification or self-righteousness deny our status as loved and forgiven people. 
Are they pure? The indwelling Christ exposes anything that pollutes the authentic. Spiritual purity requires that we will to do God's will; anything that causes us to give loyalty to a false god and anything that demeans the dignity of people will destroy our peace. Fantasizing in thought what we would not do in action will eventually drain away our peace. This includes thinking of people as sex objects as well as using our imaginations to conjure up actions that deny absolute honesty. Clean thoughts lead to veracity and virtue. Jesus said, "Blessed are the pure in heart, for they shall see God" (Matthew 5:8). 
Are they lovely? Do your thoughts instigate love and actions of love? There are thoughts that produce loving relationships and generous giving of ourselves to others in words and deed. Christ Himself generates this quality of love. He generates the power to live out His new commandment to love others as He has loved us: "A new commandment I give to you, that you love one another; as I have loved you, that you also love one another. By this all will know that you are My disciples, if you have love for one another" (John 13:34-35). 
What's new about that commandment? It is a call to love without qualification. The strength or weakness, adequacy or inadequacy of the recipient is not the motivation. Christ guards our thinking by keeping our thoughts free of manipulative love and guides us to say and do lovely things to all people. Christ places people on our agendas and helps us to communicate His amazing love. 
Are they worthy of Christ's affirmation? Do you meditate on whatever is praiseworthy? Are your thought patterns worthy of Christ's praise? Are they excellent by His standard of what is constructive for our thoughts? Have you given Him control of your thought habits?  
Paul follows this six-way test of thinking that enables peace of mind with a bold personal witness of how Christ garrisoned his mind and heart and guarded his thought and emotional life. "The things which you learned and received and heard and saw in me, these do, and the God of peace will be with you" (Philippians 4:9).
Sounds a bit arrogant at first doesn't it? And yet, the apostle found the secret of peace during anxious times. It worked for him during his troublesome ministry in Philippi, and it was working for him in prison in Rome while he wrote this epistle. He wanted everyone discover his secret of true spiritual success.
Paul's Formula
Do you have a formula for living with peace of mind and heart that you wish everyone shared? I can't think of a better one than Paul has given us: 
• Bring your anxieties to the Lord. 
• Surrender them to Him. 
• Invite the Lord into your thoughts and feelings and accept His peace—infusing presence. 
• Welcome Him as guard to ward off anxious thinking and emotional responses that will diminish your peace. 
• Consistently take the six-way test for creative thinking. 
• Share with others the secret of living with the peace you have found.