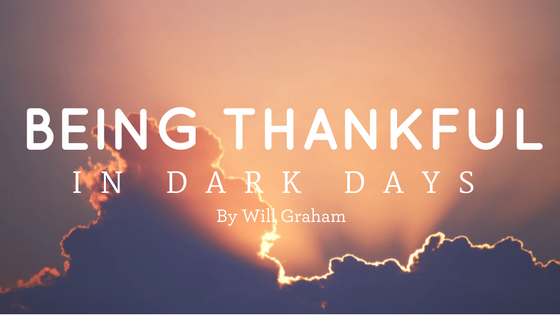 By Will Graham, Cove Executive Director
As we're coming up to the Thanksgiving holiday, it's important to stop for a moment and consider all of the many blessings that we have. It's easy to do most of the time. We're thankful for the roof over our heads (unless we don't have one). We're thankful for our jobs (unless we're one of millions who are unemployed). We're thankful for our families (though many are struggling as they watch a loved one deal with a debilitating or deadly disease).
So, maybe it's not always so easy to give thanks. Maybe it's easier to huddle in the corner and look hopelessly on as the world seems to be falling apart all around us. We're witnessing very serious and troubling conflicts and upheaval on a daily basis.
Things don't look great at home either. Our chaplains who work in areas that have been impacted by major tragedies (floods, tornadoes and the like) report that up to 70 percent of those to whom they minister were already facing some sort of "storm" in their life prior to the natural disaster.
Truthfully, it may be easier to focus on all the hurt and pain in the world than it is to focus on being thankful. It's easy to be discouraged. Undoubtedly, many of you are dealing with very deep and personal pain as you read this.
Of course, as Christians we understand that there's more to the story. My grandfather, Billy Graham – who turned 98-years-old this month – once wrote: "We're living in a time of spiritual darkness and political upheaval. Only the forward-looking Christian remains sincerely optimistic and joyful, knowing that Christ will win in the end and 'if we endure, we will also reign with him.' (2 Timothy 2:12)"
If we can be thankful about only one thing in this world, it's that we know the One who is in control; the Rock to whom we cling.
That's what sets us apart, isn't it? That's why we can be thankful in a world of turmoil. That's what gives us encouragement when the never-ending procession of talking heads in the 24-hour news cycle tell us how bad everything is.
And that's why we need to be sharing this hope at every turn, knowing that everyone else needs it just as badly as we do.
In this dark world, we do have hope, we do have reason to be thankful, and we do have a calling to share that hope with others. Be praying for those you know who need to hear this message, and – when God gives you the opportunity – share it.
And then, my friends, when God answers your prayers and you see a harvest, that's something to truly be thankful for.
Bless you!