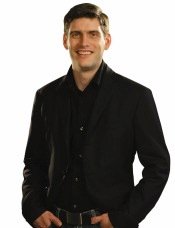 By Will Graham:
It is continually humbling to be compared – and even mentioned in the same sentence – as the wonderful man of God that I call Daddy Bill, my grandfather Billy Graham. But many people may not know one key aspect of ministry that both my grandfather and I share: we both started our ministries as pastors of local churches.
When my grandfather was a student at Wheaton College in Wheaton, Ill., he served as part-time pastor of an area church. Then, as he finished his studies, he became pastor of a church in Western Springs, Ill.  He wrote in his autobiography that he was so enthusiastic that he accepted the call without even asking my grandmother, to whom he was engaged!
My path to the local church took a similar route, except that I had absolutely, positively zero desire to be a pastor. As I became a student at Liberty University, I spoke with my dad about my major, and he suggested that I focus on Bible and Business. "No matter what you do later in life, those two areas will serve you well," he told me.
I took his advice, and – as a young student – I fell in love with the Bible. I became a sponge, soaking up all the wisdom I could possibly gather from my professors. I grew to see the Bible not as a collection of stories, but as one continuous narrative of God's love for us from Genesis to Revelation.
Despite this passion for God's Word and the burden I felt to tell others of His love for them, I still fought the idea of ever being a pastor of a church. I didn't want it! To me, pastors were underappreciated and underpaid. They were stuck dealing with unwinnable situations in interpersonal and interchurch conflicts and were often told everything they were doing wrong (not what they were doing right).
Yes, I even went so far as to tell God, "Thanks, but no thanks. I'll go wherever you want me to go and do whatever you want me to do, but I'm not going to be a pastor." Looking back, this little statement certainly fits the old saying, "If you want to hear God laugh, tell Him your plans."
I went on from Liberty to seminary at Southeastern Baptist Theological Seminary in Wake Forest, and it was there that Pastor Ron Rowe of Bay Leaf Baptist Church convinced me that – even though I didn't want to be a pastor – it would still be good for me to get experience in a local church. He pointed out that the Billy Graham Evangelistic Association (BGEA) always develops good relationships with churches where they are holding outreaches, and this experience would give me another perspective if I did end up as a part of the organization that bears my grandfather's name.
His argument made sense to me, and I became an intern at Bay Leaf. Eventually I became the pastor of Bay Leaf's church plant, Wakefield Baptist Church.
My friends, I loved it! It was one of the greatest honors of my life to lead that church plant and minister to the wonderful folks there. When the time came for God to call me to my evangelistic ministry and position with BGEA, I didn't want to go. I wept openly because I didn't want to leave, but when God directs your path, you follow. That's one thing I learned through the process.
So, why am I sharing this whole story with you? It's Pastor Appreciation Month, and I want to make sure that you are doing everything you can to support and encourage the pastor of your church. "Encourage one another and build each other up, just as in fact you are doing.  Now we ask you, brothers and sisters, to acknowledge those who work hard among you, who care for you in the Lord and who admonish you. Hold them in the highest regard in love because of their work. Live in peace with each other" (1 Thessalonians 5:1–13, NIV).
Whether your pastor entered the local mission field enthusiastically like my grandfather, or reluctantly like me, his calling is not one to be taken lightly. On any given day, your pastor is – with God's help – guiding a flock that is dealing with depression, infighting, spiritual warfare, budget issues, divorce, lost jobs, deaths, and life-threatening diseases. And that's in addition to all the other aspects of the role, like sermons, weddings, evangelism, programs for all ages, and community outreach.
Here are several questions for you to consider this month: Are you encouraging your pastor? Are you praying for your pastor? Are you seeking to build him up and not tear him down? Are you showing love and grace and support to your pastor's spouse and family in order to make his job easier both at work and at home?
We all need to be held accountable and offered guidance at times, but is your criticism constructive and are you engaging your pastor in love and respect?
My friends, I ask you to please examine yourself and consider honestly your answers to the questions above. If you recognize that you are not being as supportive as you can be, start by praying for your pastor and let God direct your path from there. Make sure your pastor – and his family – know how much you appreciate him this month. And don't let that encouragement end on October 31. Your pastor needs encouragement year-round, just like you and I do.
Considering giving a Cove gift certificate to show your appreciation to your pastor?  For more information or to to purchase, call 1-800-950-2092 .