By Will Graham, Executive Director, The Cove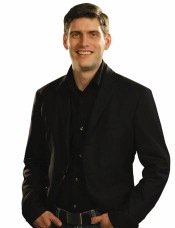 At the Billy Graham Training Center at The Cove, we're praising God for an effective and blessed year of ministry in 2012. We saw God work in awesome ways as thousands came to study from His Word, receive rest and renewal, and return to their ministries and lives ready to make an impact for Him.
Now, as we celebrate The Cove's 25th anniversary in 2013, we're praying for an even more exciting year!
In addition to the peaceful surroundings and solid Bible teaching you've come to expect from The Cove, we're doing a few new things this year that we'd like to tell you about.
First, if you've always wanted to take a seminary class but have never had the opportunity, you will have a chance this year. We're working with Dallas Theological Seminary (DTS) to hold an Intensive Bible Training event titled "The BIG Picture: Grasping the Master's Plan from Genesis to Revelation." Mark Yarborough, vice president for Academic Affairs, academic dean and assistant professor at the seminary, will lead this in-depth five-day seminar (June 24-28). As a Cove participant, you are going to love delving into the Bible in a real and meaningful way, and this is open to you whether you have ever had any formal Bible training or not. DTS students will have the option of attending to earn credit, and you can take the course alongside them (without ever having to fill out a seminary application!).
Another new opportunity this year will be select no-fee seminars. There are five in all.  Herb Reavis will lead a seminar next month titled "The Power and Possibilities of Genuine Revival," Sinclair Ferguson, a seminar in March titled "Four Hours with the Master," Jim Henry, a seminar in May titled "Sermons in Stone," and in August, Neil Anderson, a seminar titled, Rough Road to Freedom, and Pedro Garcia, a seminar titled, "Tension: How God can use Stress to Save Your Life."  These will include the seminar for just the cost of lodging and meals at The Cove. In other words, enjoy the on-site accommodations and gourmet meals, and you will be able to attend the seminar for free!
Finally, something that is near and dear to me. I must admit that I love the book of 1st Samuel. There are so many life-changing lessons in that book, and I love to preach and teach out of it. In October, I'm going to begin the process of teaching through the entire book in the format of a Cove Seminar, which will be titled "Second-Guessing God's Plan." I'm going to aim to work through 1st Samuel 1-4 during the three-day seminar. Then, next year I'll pick it up again and keep progressing through the book. As far as I know, this is the first time we've ever made a single book of the Bible an ongoing, intensive, multi-year focus, and I'm really looking forward to digging into the meat of 1st Samuel with you!
Of course, we're excited about these new opportunities, but they only scratch the surface of what is taking place this year at The Cove. We'll have seminars from well-known Bible teachers like Jack Hayford, James Dobson, Pedro Garcia, Jim Cymbala, Chip Ingram and more; two military marriage seminars, one in February and the other in June, to strengthen the families of our service members; and several Evening at The Cove concert events featuring intimate performances by many of your favorite Christian artists. You can find a full list of what is coming up in 2013 at www.thecove.org.
On behalf of the entire staff of The Cove, thank you for praying for us and allowing us to serve you. God bless you and your family this year!